When logged in to your Spacehive account, click on your name in the top right of the screen from where a drop down menu will appear. Select 'Notifications'.
In here you can choose to opt in/out of the weekly Spacehive newsletter.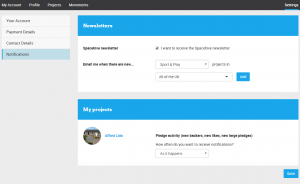 You can also set up notification emails to let you know when a certain type of project or a project in a certain location has been published.
In this tab you can also follow/unfollow projects or Movements that you've backed or liked by simply checking/unchecking the tick box.