If you are reading this then the chances are that you've got an interest in fundraising for something. In other words, you want money to be able to do something. We can definitely help with that. Crowdfunding on Spacehive is your surest bet if getting the funds is your primary goal.
However we know from talking with our project creators that crowdfunding their ideas has been more than just about raising money.
Bring people together
Crowdfunding starts with you and your idea but a successful campaign can only happen through getting out there and talking with people in your area. Use it as an opportunity to meet people and get to know your area better. There will likely be people and resources that you can tap into which will benefit your campaign.
Raise profile
By creating a crowdfunding page on Spacehive you are announcing your idea to the world. Suddenly it has a life in a way that would not occur if you were writing a grant application. Instead you have this living document that can be shared, commented upon, and through which you can communicate with your backers and the wider public. By the time you have hit your target, not only do you have the funds to deliver the project but a ready-made audience for it.
"Having a crowdfunding page really helped me to get the word out about my idea. I was new to the area and didn't really have a big local network. I shared the page online as much as I could and it really spread around the area as local media picked up on it. It meant that promoting the actual event itself was much easier as I had had months of public awareness about it" Tom / The Brixton Bolt
Unlock bigger funds
Great initiatives can lay dormant because no one is willing to bite the bullet and be the first funder. Big funders in particular are less likely to take a risk on new activity, or on an organisation with no track record of delivering something comparable.
Crowdfunding can help get you out of this catch-22 situation. A successful campaign will demonstrate the community support for your project, and allow you to get the ball rolling. Funders can then look more favourably on your project for having proactively kicked things off. Take the example of Saltdean Lido, which after years of struggling to get funding to renovate its iconic Art Deco building, raised over £100,000 with us to start the initial work and has now been given £4m from the Heritage Lottery to complete the project!
Get it done quicker
Need a quick £5,000 to run a Christmas market? Don't be restricted to the timetables of grant funders. With crowdfunding you can set the dates. We have guidance available on how long it typically takes to raise certain amounts, but the main thing is that if you want to do it and you're committed, you can get funds quickly on Spacehive – upon hitting your target, the funds can be with you within days. Sarah needed just £840 to put on a gig. 72 hours later she had hit her target! Read about her campaign and how she did it.
Build relationships
Every person who pledges to your campaign isn't just a funder. They're potentially a collaborator, a volunteer, a source of ideas, a gateway to a new network of people, a customer. Either way, they're invested in your success, and can be called upon to help you if your campaign – or project once it's funded – hits the buffers.
Julie, who ran a successful campaign for a youth brass band in Leicester, was in the middle of her campaign and found that people were getting in touch to offer more than just funding.
"A man who was in his 90s called us up and gave us a classic trumpet that he used to use when he was younger. It was an amazing gesture. He's now a supporter of the band and is donating other items as he stumbles across them!"
Sense of ownership
At the end of the day what you create as a result of crowdfunding will foster a sense of ownership among you and your community. The coming together to fund and deliver a project that positively impacts your area can act as a catalyst for reimagining what is possible. Lucy, who raised £45,626 for a community garden, had her community take up shovels and get digging, all of whom now can see a real, living testament to what happens when they work together (check out the separate blog which tells her story in more detail).
"There is a sense of optimism now that we can make things happen. We have good ideas, and as a community we are now much more connected. Several of us who have never worked together before but got to know each other through this campaign are already working on a new project. Watch this space!"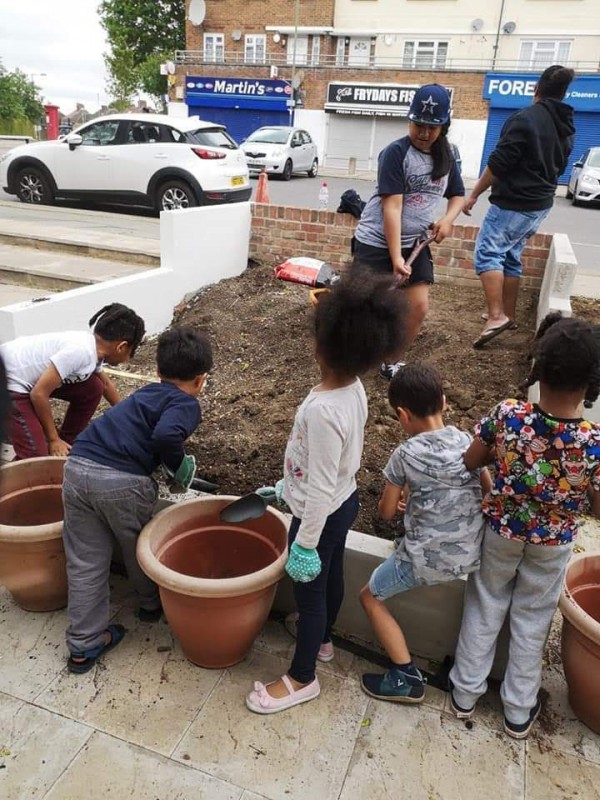 Like the sound of these? Whatever your reason(s), crowdfunding on Spacehive is fast, transparent and fun way to transform where you live. Got an idea for a project? Go to spacehive.com/create and start telling us about it!