Last night twenty project creators across London pitched their ideas to transform the capital in front of a live audience at City Hall in an attempt to earn a pledge from the Mayor of London (hearing about this for the first time? Find out more about the #CrowdfundLDN programme and see the full list of pledges here).
These brilliant humans came together with more positive energy than a bag of protons and well, we want you to meet them too.
Work, work, work
Just like a Rihanna song, these projects were all about creating new places and ways to work (work, work). From the V22 Workspace Creche (Hackney) – a new creche set in a studio space in Dalston, with access to a community garden which provides an innovative solution for artists, freelancers and creative entrepreneurs who are also parents and The Carpentry Club (Tower Hamlets) – which aims to fit out a workshop to a professional standard and fund a programme of events to encourage increased and sustained engagement by the local community to Uplift Salcombe Gardens Shops (Barnet) which is going to provide a much needed makeover for six tired and unattractive shopfronts that will improve their trade and the local street-scene. These project creators are seriously getting down to business.
Part of this brilliant mix are the Old Kent Road Studios (Southwark) which aim to transform 60 vacant garages on the Ledbury Estate into spaces for workshops, studios, cooking lessons and cultural activities where people can learn and socialise. Relive the moment from pitch to pledge where Nicholas received a £20,000 pledge from the Mayor below.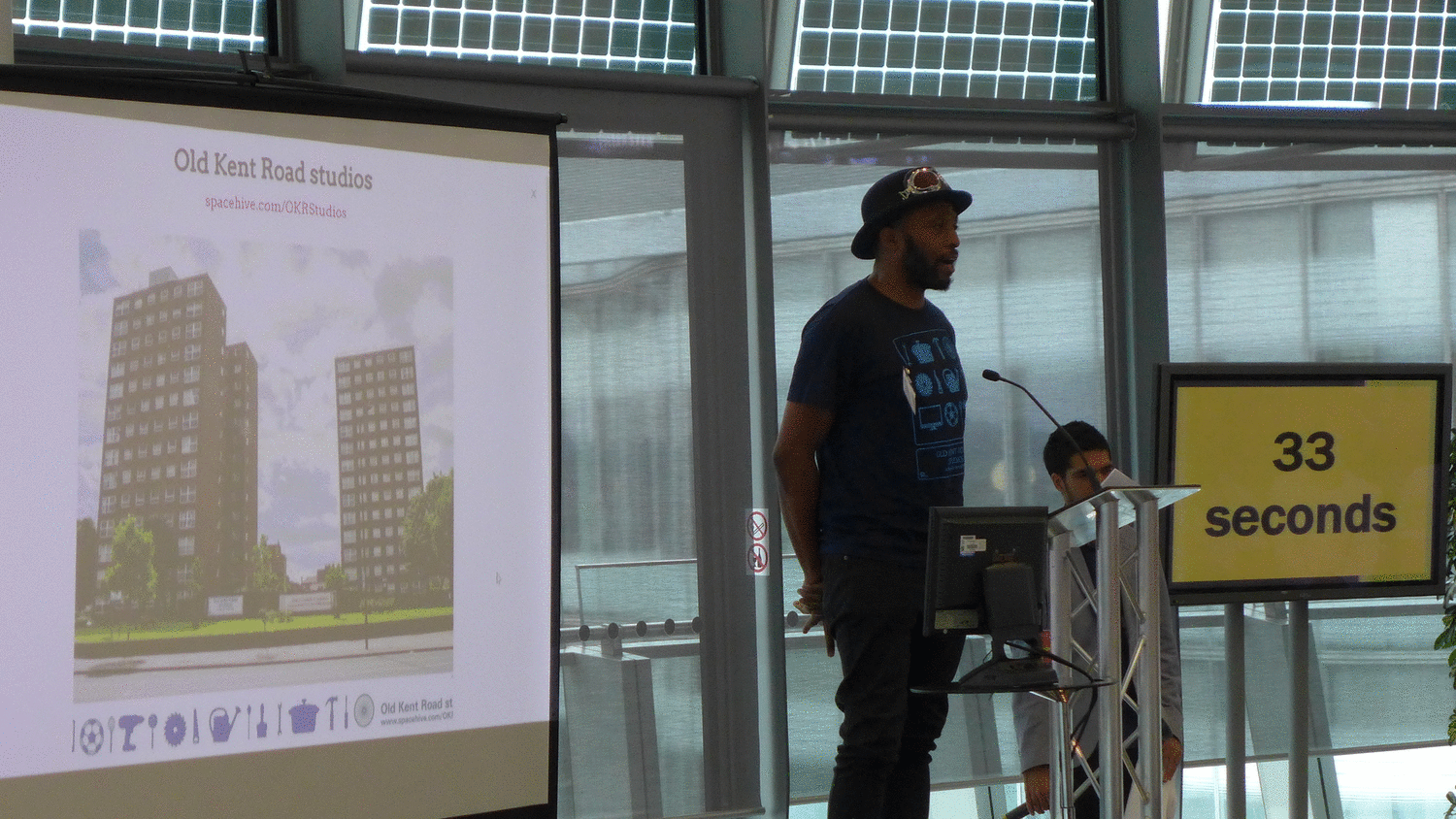 Damn, that felt good!
Hungry for change?
With the GLA's food department contributing a solid £40,000 towards the funds, this year we attracted some absolutely brilliant projects centred around the themes of healthy eating. From the Paxton Primary allotment (Lambeth) which engages parents and volunteers from the community to support children at school with growing their own vegetables and selling it on at affordable prices to Kitchenette Karts (Tower Hamlets) – a healthy, sustainable fish & chips truck in the heart of the East End, creating pathways into entrepreneurship for young East Londoners.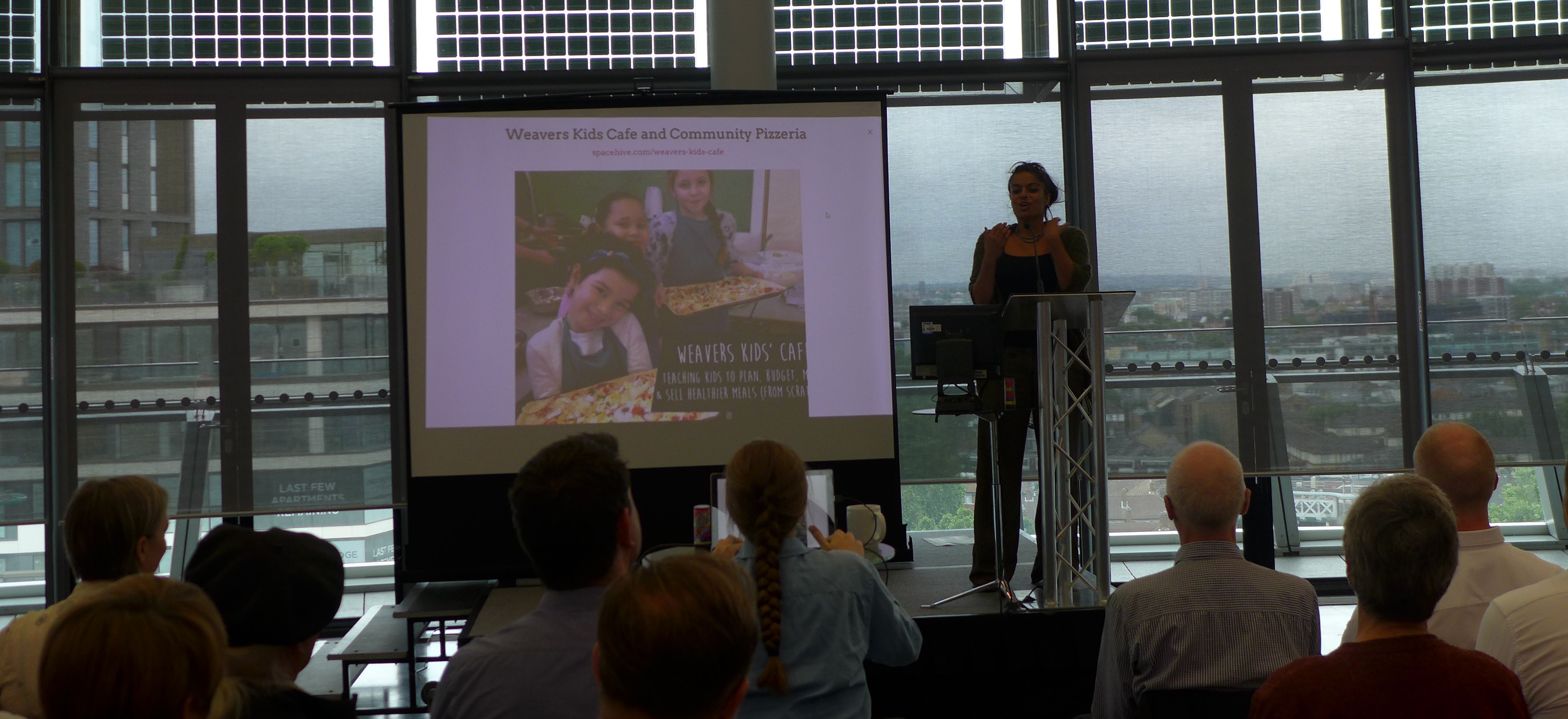 Kiran (above) bravely kicked off the night with Weavers Kids Cafe and Community Pizzeria (Tower Hamlets) – a not-for-profit café that will teach young people to cook and sell affordable, healthy meals, with costs funded by a Community Pizzeria also helping to sustain Weavers Adventure Playground. Whilst just up the road Freshwell Mobile! (Hackney) – a pop-up stall displaying healthy fruit and vegetables at the heart of communities and estates to improve health and well-being by giving access to affordable fresh produce to those needing it most.
Growing a Greener London
Alongside the Mayor of London and the lovely Londoners in the house, we also had The Landscape Group pledging a hefty £2,500 to four of our green space projects as part of their Growing a Greener Britain Fund. Absolute legends!
Projects included The White House Community Garden (Dagenham) – a new community garden on the Becontree Estate, part of a locally listed former farmhouse being renovated for community use and Seeing the Wood for the Trees (Ealing) – a Forest School which will engage attendees to learn and explore in a natural environment.
Another £500 from @UK_GGB thank you so much. Please drop by sometime time, tea and homemade cakes in us. 󾌴

— Lordship Hub Co-op (@LordshipHub) June 29, 2016
As well as Raise the Roof at Lordship Hub (Haringey) – a project to weather-proof Lordship Hub's terrace to increase its capacity and continue to serve as a hub for the local community and The Phoenix Garden Blooms (technically Camden… though you'll find it in the heart of Soho) – re-landscaping and refurbishing the garden for new visitors which coincides with the reopening of the garden after the construction of a new community building.
Creative types
From street art to music history and becoming more sculpted than Ryan Gosling's six-pack – these three projects bring together the best of the arts world. Colour in Romford (Romford – obviously) is a campaign to bring street art to the town, brightening up a grey high street and creating community spirit, while The Eel Pie Island Museum (Twickenham) is a new museum celebrating the musical history of this unique island, and the role it played in the British blues explosion of the 1960s.
And continuing the theme of arts with heart we have the Melting Pot @ London Sculpture Workshop (Greenwich) which will be a community ceramics hub and foundry to upskill communities through material engagement and widen participation in creative learning across all demographics. Are you melting? You should be.
All the feels
Hugs, tears and cheers – these three projects are responsible for getting us all emotional, in the best way possible.
Husband and wife duo behind The Big Park Sleepover 2016 (Lambeth) – a free summer sleepover camping mini-festival for local families in the heart of London's Myatt's Fields Park – made the room collectively 'Aw' as they celebrated receiving £7500 from the Mayor with a hug and kiss. Their campaign is just over the half way mark with 107 backers pledging £9,771 of £18,597.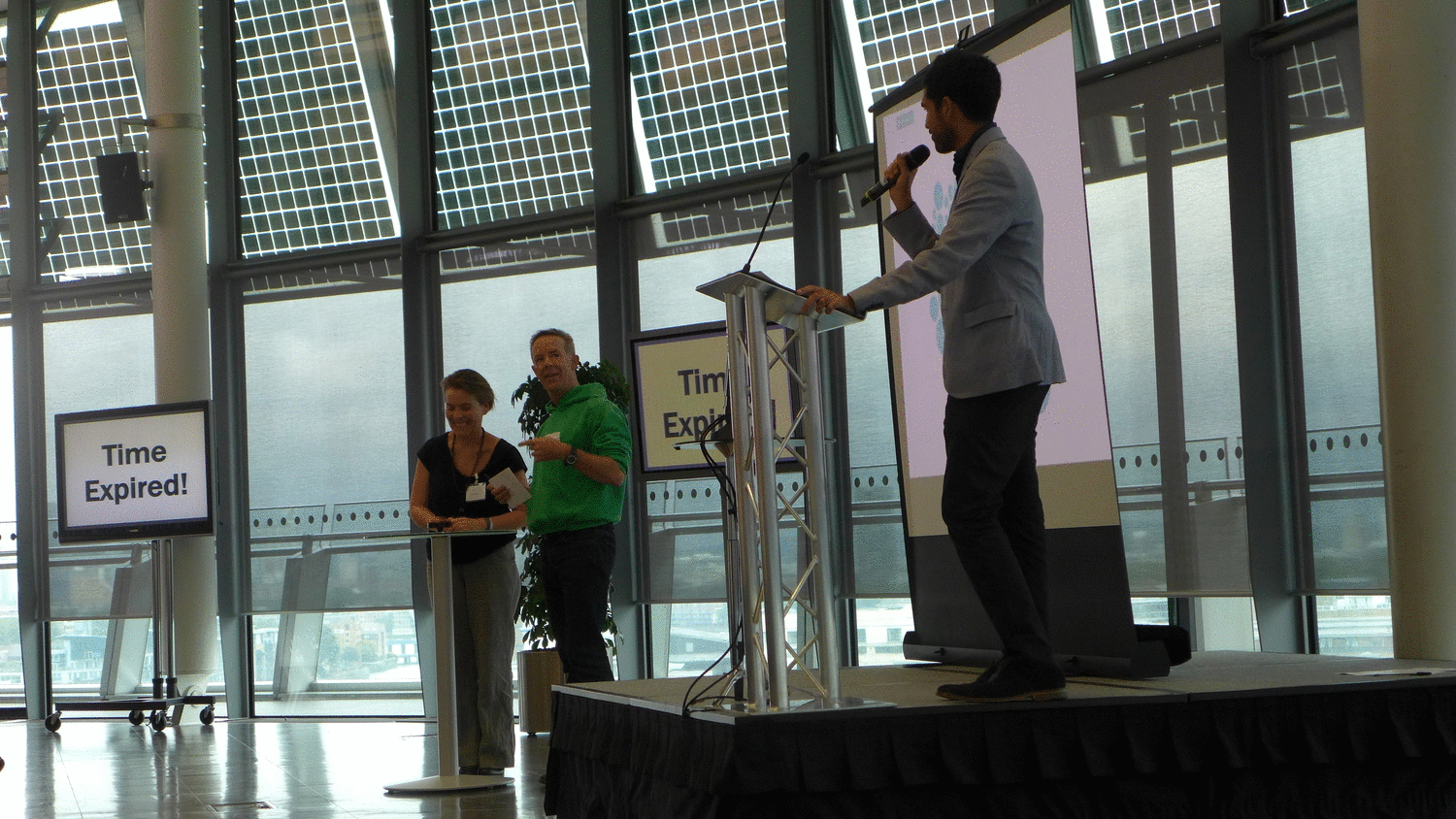 The show stealer of the night however was Davina from Punch and Juicy Market Place (Brent). Her face when she saw the £10,000 pledge from the Mayor was one of the most moving moments of the night/this year/my life. Davina has overcome more obstacles than a Tough Mudder course to come out the other side and dedicate herself to helping nurture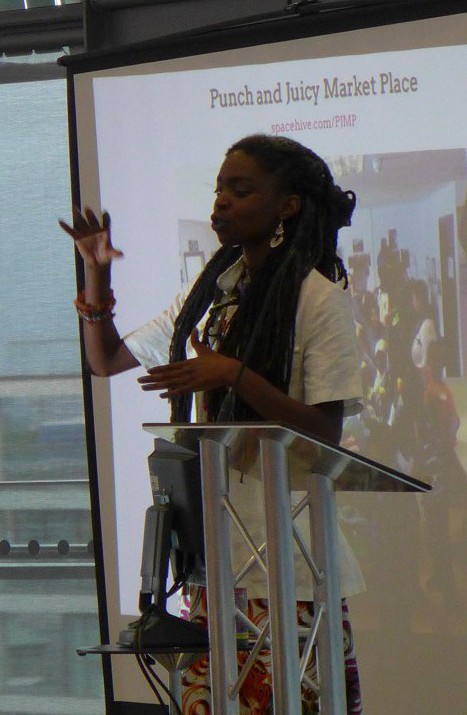 and educate young people through a healthy juice academy and Root-to-Market programmes with a pop-up market stall. She's already raised £10,240 of a £23,554 total and with your help will be on track to win more pledges (and hearts) in the coming weeks.
Pengelicious (Bromley) is a real food festival for Penge SE20, for local residents and traders to share their recipes and dishes, cooked by local people and businesses using ingredients from local suppliers. And in a crowdfunding first Jasper and the team hit their target live on the night as the Mayor's pledge of £500 helped them hit their target of £3,110. Cheers all round!
Record breakers
And on the subject of breaking records (or aspiring to) we have £81,134 as the highest target to be hit over at Well Street Market (Hackney) – an innovative new model of a community market, offering locals access to healthy, affordable, good quality food along with a Teenage Market, Student Makers Market and live music stage. £20,000 from the Mayor has brought them over a third of the way to hitting it.
The project with the most backers at 845, including celebrities James Norton, Isy Suttie and Julian Ovenden, is the Peckham Lido (Southwark). The once loved lido has been buried underground for almost 30 years. This group now want to bring it back, better than ever, for the whole community to enjoy and have currently raised £40,610 out of a target of £64,824. Boom!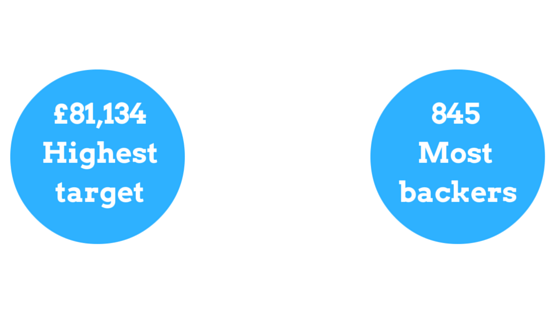 And with that you have our twenty #CrowdfundLDN projects. Discover them all here and do your bit to help these brilliant people hit their targets! What are you waiting for? Go pledge!