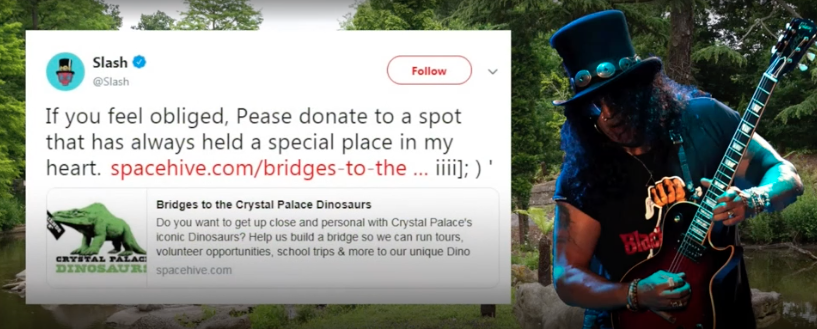 Getting a pledge from the Mayor of London is a huge boost for any campaign but Bridges to the Crystal Palace Dinosaurs has now gone a step further with none other than London-born Slash of Guns N' Roses, tweeting his support and donated what is described as 'a mystery item' for an upcoming auction.
'Bridges to Crystal Palace Dinosaurs' is raising money as part of Crowdfund London, to build a permanent bridge to the unique set of Dino sculptures in Crystal Palace Park. The Grade I listed sculptures are located on islands which the public can't usually get on to and are rated one of London's top 50 iconic places.
Almost 400 people have backed the campaign along with the Mayor, who pledged £30,000. In addition to the money itself a pledge from the Mayor also acts as a catalyst for others to step up and show their support.
And now the campaign has even reached the ears of Slash who tweeted "If you feel obliged, please donate to a spot that has always held a special place in my heart,", while sharing a link to the page with his 3.6m followers.
So what's the mystery item? The campaign organisers have said they will reveal all soon. Watch this space. You can back the campaign yourself here: www.spacehive.com/bridges-to-the-crystal-palace-dinosaurs