It's easier to run a short, sharp crowdfunding campaign in which you regularly and clearly communicate with the crowd than to run a long campaign with irregular communications and no clear action message. No surprises there. But how do you make sure you're talking to the right people at the right time with the right message throughout your campaign? You plan it!
Take the time before you launch to create a clear communication plan and it will help ensure your project is on track for success. It may seem like a lot of work now, but at least for the duration of your crowdfunding campaign you'll be able to sleep at night knowing a big portion of the work is out the way!
The first 10%
Before anything else, you want to start telling your friends, family, and colleagues about the project face-to-face. They will be the first people to back your project (after yourself!) so phone calls, messages, whatever it is, make it impossible for them to avoid you! Aim to get around 10% of your project funds in this manner before launching more publicly.
The second tier
Once the inner circle have been exhausted of funds, it's time to reach out to the next ring of your network, primarily with leaflets and posters (make sure to budget for these or ask a local print shop for a discount). All printed and online material should include your project url (the link to your page), the name and aims of your project as well as attractive imagery to get people's attention. Ask local 'Friends of' and community groups to help with distribution and aim to be 20% funded by this stage.
The big push
You've now got enough pledges to make it worthwhile reaching out on social media to people you don't necessarily know personally but whom the project would benefit quite directly. It's important to wait until you have a notable number of pledges as these will give the backer confidence in the project, seeing as they don't know you firsthand. For people looking at your project for the first time, if they see 35 people have already pledged, then it must be a) interesting and b) legit!
Social media tips
Share a steady stream of social media posts throughout your crowdfunding campaign and make sure they're exciting, funny or eye-catching. Inspire people with more than a simple "Please support our campaign" message. Follow our top tips below to communicate effectively using social media.
Change your Facebook and Twitter cover/banner images to mention your campaign and include your project link – make your project unavoidable!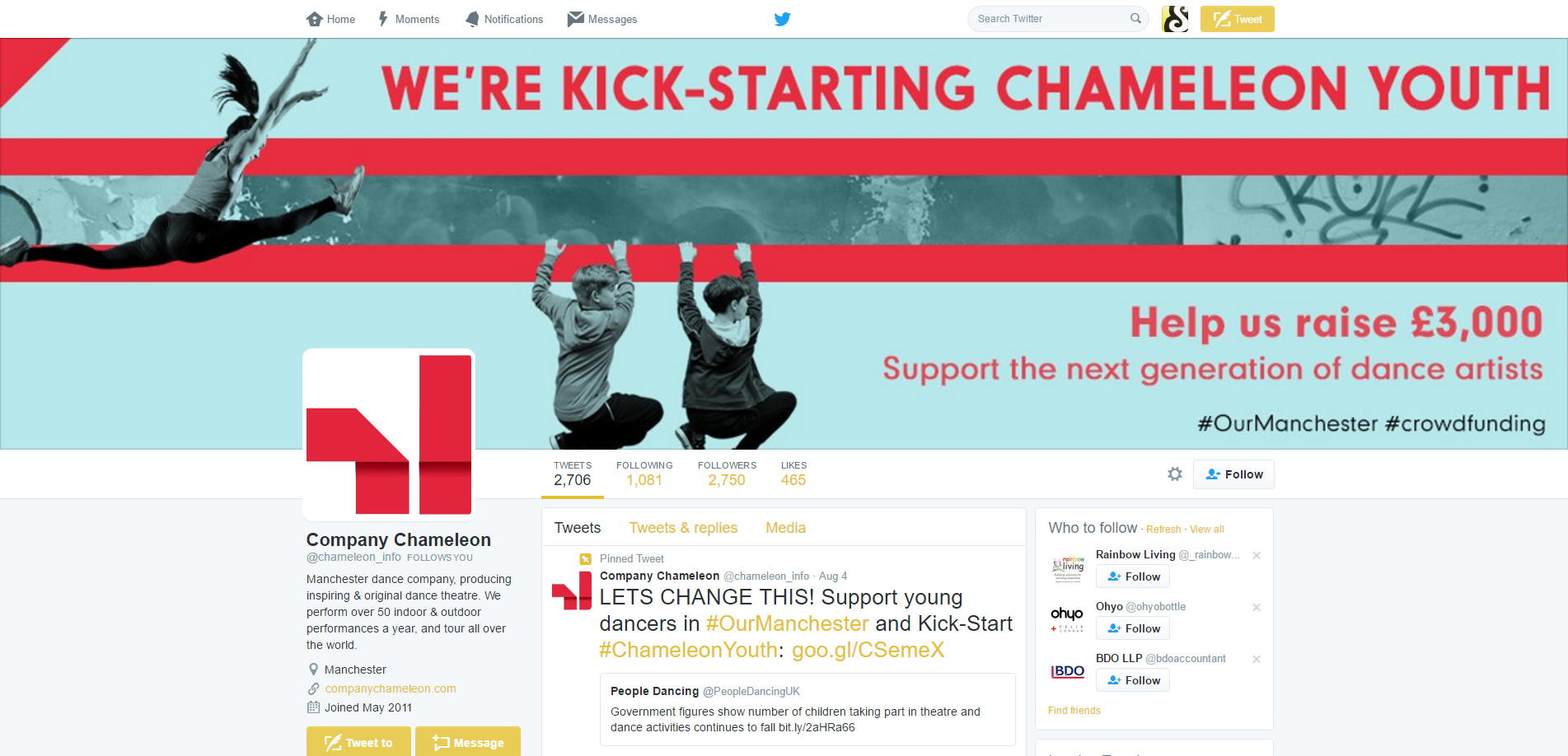 Create a #hashtag for your campaign, something short and catchy, and not too far removed from your project title e.g. #PeckhamLido

Short, 10 second, video clips of backers explaining why they're supporting the campaign are a great way to remind your audience of the communities behind the online campaign.
91% there!!!!!! Pledge now to help get us over the line! https://t.co/Gqrl0M1lWw 🏆 pic.twitter.com/kwNeGs8fME

— Venture Centre (@VentureCentre1) May 12, 2016
Directly follow local influencers (bloggers, local media, parents groups) and spark up conversation with potentially interested parties via social media. Don't be afraid to ask for a retweet, just remember your manners, ahem "RT please".

Use social media to publicly thank backers.
THANK YOU MORE PLEDGERS: Ana Torres, Alex Torrance, Siobhan Coffey, Giles Corby, Betsy Blatchley -really encouraging https://t.co/NOPtcy6xjA

— Well Street Market (@WellStMarket) August 16, 2016
Towards the end of your campaign, begin a countdown to build pressure among your followers to help you hit your target.
Buffer or Hootsuite are scheduling programmes you can use to line up your Tweets and Facebook posts.
You don't have to be a designer to create good looking visuals. Canva is an easy to use (and free!) online tool for creating pretty pictures to use on Facebook and Twitter.
Although online engagement through social media is an excellent way of spreading the word wide and far, it's also important to campaign offline too, to capture those who aren't on social media or who simply need a little bit more face-to-face persuasion. Learn how to throw a pledge party here.