The Peckham Coal Line
How Nick and Louise used Spacehive to raise £75,757 from 928 backers to transform a South London railway line into a park
Badly lit back roads, industrial buildings and dangerous crossings divide Queens Road and Rye Lane in Peckham. When local residents Nick and Louise identified a disused coal line sealed off from the community, they saw in it the potential to bring these two communities together by turning this hidden path into an elevated urban park. Teaming up with other passionate local residents they formed a collective and came to Spacehive with the idea to create an urban oasis that would rival New York's Highline.
"It started with seeing the trees sprouting out of the arches and wondering what was up there."
Walking the line
The Spacehive platform allowed the Coal line collective to set out their project plan – outlining clear steps, timelines and costs for a feasibility study and an awareness campaign of events and workshops for people to discover the Coal Line's history, context and potential.
Displaying their project on Spacehive gave them a podium to share their vision with the rest of the community and beyond; allowing people to contribute ideas, resource and importantly the funds needed to bring the idea to life.
This resulted in an amazing response from the public with over 500 people attending their initial events, generating interest from local, national and international press and a social media campaign that broadcast the project far beyond the local area.
"The Peckham Coal Line project is a fantastic example of how civic crowdfunding can harness local enthusiasm and allow us to work more directly with Londoners to improve neighbourhoods."
Boris Johnson, Former Mayor of London
People-powered projects
Organisations such as Peckham Vision, Southwark Living Streets, Sustrans and Network Rail saw the potential transformative effect of the project and lent their support. The popularity of the project then drew the attention of the Southwark Council and local MP, Harriet Harman who were eager to back a project that contributed to their plans for the regeneration of Peckham's town centre.
"The Peckham Coal Line project is an exciting and satisfying counter balance to other London landmark projects – no less ambitious but with heart."
"… I feel very honoured to be donating towards the on-going regeneration of our community. This project has fantastic potential – if you are umming and arhing about supporting, take the plunge, you will be part of something special."
Matthew Tree, Peckham Business Owner
Nick and Louise used Spacehive to raise £75,757 from 928 backers to transform a South London railway line into a park. The campaign joined together councils, businesses and local residents to raise the funds in record time and phase one of the Peckham Coal Line is now underway.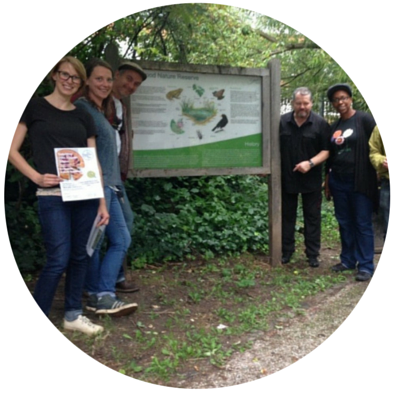 Orgs that pledged over £10k