Taking on the messy, complex world of civic change – with its rules, regulations, gatekeepers, and various interest groups to navigate, was always going to be a challenge. If you are someone who managed to create a civic project prior to 2012, then we tip our hat to you! It can't have been easy. We thought it could be done better. In September 2019, upon reaching 700 successful projects on our platform, we felt that it was time to reflect on the learning so far. 
When we started out in 2012 it was based on a pretty simple belief: that through collaborating, we can get a whole lot more done. We also believed that communities are teeming with ideas that respond to the opportunities and challenges in their area, but that they lacked a voice at the table where local change is typically decided. By building a platform where local individuals and groups can put forward their ideas, and then with the backing of their community, get additional funding from their local council and businesses, we predicted that we would see a flourishing of projects to create places that make people happy, proud and prosperous.
Looking back at the range of projects we have seen successfully crowdfund on Spacehive since then, we think that we've come good on that, even though there's much more to do – more on that later.
We loved the simple ingenuity of some of the first projects that came forward, such as the remodeling of a disused telephone box into a public gallery – yours for a cool £1,671! Some projects were all about the moment; see the Brixton Bolt, a local follow-on to the London 2012 Olympics, or Happiness in Tottenham, which attempted to bring people together to discuss creative solutions for the area following the 2011 riots.
These projects made people start to sit up and take notice of what could be achieved on relatively small budgets. Councils had pledged to many of our first projects, but in an ad-hoc way. What if we could create a way for councils to formally set up programmes in their area, with a dedicated funding pot for crowdfunding projects which align to their strategic goals? What started off as 'Hives' are now 'Movements', and today there are 25 of them, each unique in their own way, some with a focus on community development, others with a regeneration slant, and more.
By plugging into councils and having integrated funds we have been able to turbocharge the number and size of projects that come to Spacehive, and also, crucially, their likelihood of success. If you run a crowdfunding campaign with us anywhere in the country you are 56% likely to hit your target – already the lead among crowdfunding platforms. However if you run one in a Movement area, this success rate goes up to 85%. Today we amplify this process through funding rounds – moments in the year where the council and community are primed to support a collection of projects all campaigning at the same time. On average each round produces 14 successful projects. And while the majority of the backing comes from the local community (around 80%), they only need to pledge on average 20% of the total to encourage bigger funders to help take it over the line.
Of course like all partnerships the more all sides put in, the more you get out of them. Our partnership with West Sussex County Council sees the council make all of its community grants through the West Sussex Crowd. The result? Over three funding rounds the council has pledged £215,706 to 93 successful projects which combine to a value of £642,652 – boosting their grant-making ability by around 300%. By backing projects this way, the council not only responds to the mandate signalled by the community in the early stages of the crowdfund campaign, but it encourages others to come forward who may not typically fund local projects, particularly from the business community.
Where our partners believe that local communities have the capacity to propose and deliver large scale projects, they put their money where their mouth is. Crowdfund London, backed by the Mayor of London, is about to close its sixth funding round, and with an annual fund of £1m available and a maximum of £50,000 per project, it now regularly produces some of the most exciting and inspiring civic projects anywhere in the world, from new village halls to high line parks to rock'n'roll museums.
We're also genuinely working UK-wide. We've seen broadband delivered to rural Scotland, a poetry jukebox on a street in Belfast, a blue plaque for a local hero in Newport, and a wheelchair roundabout in Doncaster.
Crowdfunding on Spacehive is as much about the mandate set by the community to make something happen as it is the raising of funds. It's why we are not just a place to fund and deliver a project in its entirety, but also an effective first step in a bigger funding picture where larger sums are required. Take Brighton's Saltdean Lido for example, which for decades has sought to revamp its Art Deco main building, but had never been able to get it off the ground. Its crowdfunding campaign – one of the biggest we've seen on the platform – raised over £100,000, but perhaps more crucially, was backed by over 1,200 people. It meant that the first work on the project could take place, which along with the overwhelming backing it received helped to unlock a further £4m from the Heritage Lottery Fund.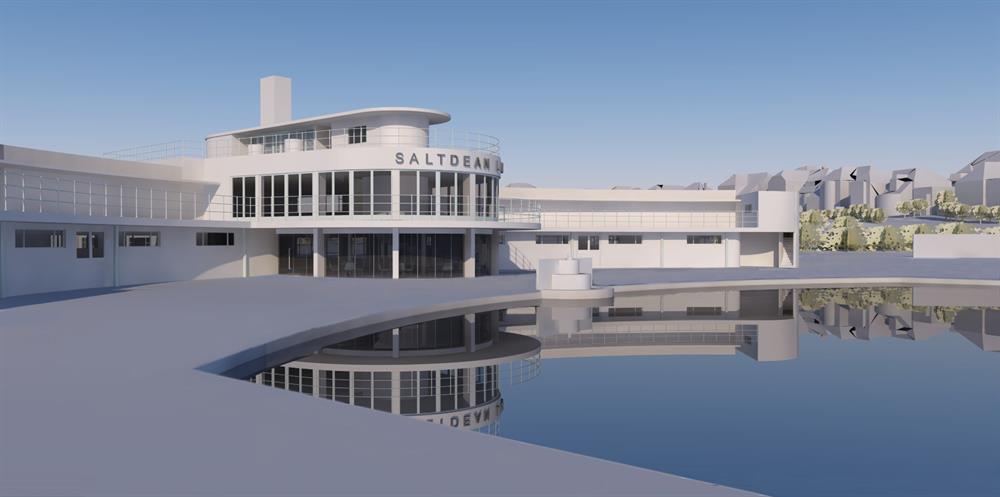 In the end though it all comes back to the project creator, and how we can best support them to bring forward the changes in their area that they, and their communities, want to see. We strive to provide tools which anyone can use, no matter where they are or whether or not they are an experienced community activist or someone completely new to this. We're proud that over 55% of our projects come from the UK's most deprived communities, with 30% of them coming from the bottom third as classified by the Index of Multiple Deprivation (the official measure of relative deprivation for small areas). We're also delighted that 60% of projects are proposed by women, who we know are grossly underrepresented in traditional civic place-making.
So what's next? Currently we work with just 6% of local authorities, though within that 6% we've pretty much got them all ticked off, from big city to unitary, north to south. We now want to fill in the gaps (if you're reading this and like what we're about, get in touch partner@spacehive.com!). We're ready to work with the millions of people across the UK who say that they would like to have more say in how their area is run. Whether it's gentrification, inequality, or climate change, there's a lot to get on with. We have 700 reasons to believe that communities can and do have the ideas that don't just fix local issues, but bring places to life. We look forward to being the platform upon which these ideas spring into existence.
Click here for a full list of the 700 superstars.