With still 5% of the UK population left without fibre broadband, BT turned to Spacehive to help hard-to-reach communities crowdfund a solution. The results surprised everyone involved.
BT has teamed up with Spacehive to provide co-funding and support to help hard-to-reach communities get fibre broadband in a way that is both quick and affordable. While the initiative is still in pilot mode, seven projects have already hit their targets with communities and BT coming together to raise over £75,000 to bring fibre broadband to their area.
If your area suffers from low internet speeds, you could partner with the Crowdfunding Fibre initiative to raise the funds and support you need to install fast broadband in your area through crowdfunding.
The Benefits of Crowdfunding
Setting up a crowdfunding page allows you to set out your project clearly, attract community interest, build mailing lists, and spread the word using social media. It also helps with the logistics of raising the funds by providing a secure and convenient way to collect money while displaying contributions in a clear and transparent manner.
Once a page has been created with the details of the project, friends and neighbours can contribute online and if for some reason the project doesn't go ahead, the service will take care of giving the money back to the people who have contributed.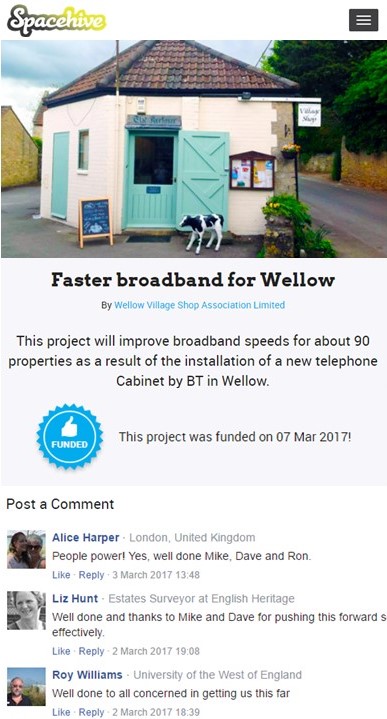 There are many benefits to running a crowdfunding campaign – along with raising the necessary funds, it also helps to raise awareness and support, unlock other funds as well as bringing communities together to achieve a common goal – in this case fast broadband.
Crowdfunding Success Stories
An increasing number of communities up and down the UK have turned to crowdfunding as a way of raising money for their fibre installation projects including Berkshire-based broadband campaign group 'Faster Broadband for Twyford'.
Members of the group set up a project using Spacehive, a crowdfunding platform for projects recognised crowdfunding service, to help them raise around £10,000 needed to get fibre into their community. Thanks to crowdfunding, that target was reached in a matter of weeks.

Similarly, when the residents of Tattenhoe Park in Milton Keynes needed to raise over £2000 to match fund a grant to get faster broadband they set up a Spacehive page too.  Pledges quickly rolled in and now fibre is set to get rolled out to their community.
And residents of Wellow near Bath have also secured a community fibre broadband solution for their village via crowdfunding their costs.  It took little over a week for their crowdfunding page to attract the amount they needed and now 90 households in the village are looking forward to greatly improved broadband speeds.

Next steps
If you're interested in finding out more about how to get fast broadband for your area through crowdfunding follow the steps below.
Register interest in a community fibre partnership here
BT will provide a quote for your area
Create your fundraising page on Spacehive
Build up community support and attract pledges
Once money is raised, contract will be signed with BT and installation of fibre broadband will begin
Learn more about Community Fibre Partnerships here: communityfibre.bt.com. Check out project success stories and learn how to start crowdfunding on the Crowdfunding Fibre Movement on Spacehive.