One of the hugely important elements in determining the success of your project will be ensuring it's well designed. Check out our top tips from the Mayor of London on what to consider when designing your project below. 
No matter how big or small your project, ensuring it is well designed will help in many ways:
• Making your project a source of pride in your community.
• Creating something unique rather than 'off the shelf', reflecting the character of your area.
• Saving money through being carefully thought through for its specific purpose.
• Attracting funding and local support through being visually appealing.
• Meeting all the regulations and practical requirements.
• Creating a realistic budget for your building work and thinking through risks or problems.
Using professionals may feel like a big cost, but it usually saves money in the long run. As with any supplier, make sure you get a quote that sets out exactly what they are going to do, how long it will take, and when they will require payment. Some professionals may offer free ('pro bono') advice but you should still get a written agreement from them if you will be relying on their advice.
You may need:
• Architect or designer
• Structural engineer
• Building services consultant (sometimes called an M&E consultant)
• Quantity surveyor or cost consultant
• Graphic designer
How well does your design work?
Good design is more than just making things look good – it will make them work well too.
These are design principles to bear in mind:
• Will it have the character you want to create a public welcome?
• How will you find your way around your space? Is it obvious where you need to go?
• How will different functions in the building interact? Are there issues around noise spill-out or privacy?
• How friendly is your space for people who may be disabled, partially sighted or have other needs?
• Have you thought about storage? Be careful not to under-estimate your storage needs.
• Can you control how the space feels? Can you open windows if it is too hot, or adjust the lighting for different areas?
• Is it flexible for things to change in the future?
• Design it to be easy to look after – can you reach the lightbulbs?
• Design it to be easy to keep safe. This doesn't mean making it a fortress – but think about what is appropriate for your area.
Case study: Hello Hoxton High Street – Peer Gallery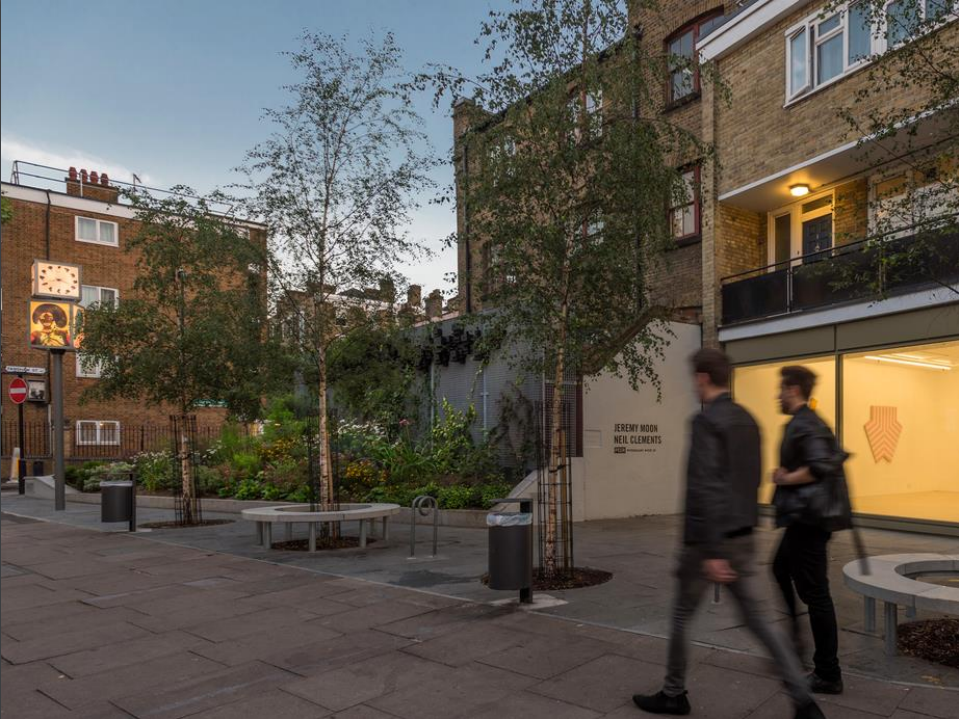 Arts organisation PEER has been on Hoxton High Street since 2002 and runs a range of activities for local schools and community groups, as well as an international exhibition programme, and art projects in the nearby area.
PEER's external appearance did not match how they worked with the community – it was not always even evident that the property was open. They transformed this through two design-led projects. Firstly, they redesigned the unwelcoming public realm space to the front and south of PEER by creating a pocket park, working with local residents. They also redesigned their own frontage so that, while secure, it allowed the artwork within to be seen by passersby at day and night.
These clever design changes have brought a new and more diverse audience to the gallery. Many residents now stop and take lunch on the benches looking into the gallery, in the improved public space. This part of the high street is now a source of pride and a landmark in the local community.
— Lessons to learn:
• Good design makes a big difference to how your community perceive and engage with your work.
• Focusing on quality design and materials makes things easier to maintain in the long run.
• Organisations and private businesses can take the lead in transforming the public realm around their premises, for wider community benefit.
For more considerations when planning your community project, download the Mayor of London's Community Projects Handbook as part of Crowdfund London.